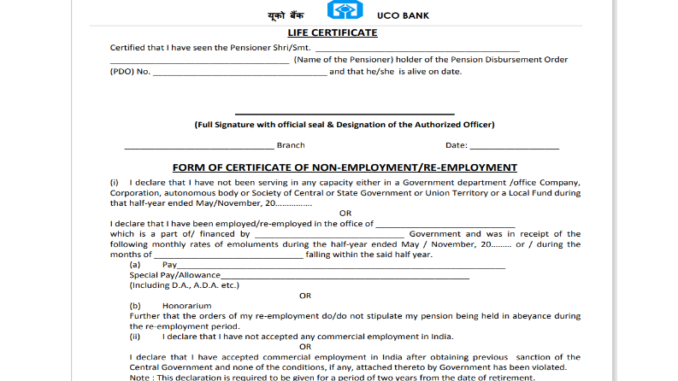 Uco can submit UCO bank Life certificate form online through UCO bank Mpassbook application, through jeevan pramaan application or physically by filling form.
This is what you are going to learn
UCO BANK LIFE CERTIFICATE form
You can download UCO bank life certificate from below link.
sparsh pensioner life certificate guiding video is in below link do watch it.
Below is the sample of UCO bank life certificate form you can take help from this for filling life certificate form.
UCO BANK LIFE CERTIFICATE यकू ो बैंक

Certified that I have seen the Pensioner Shri/Smt. ____ASHA_________________________
________________________ (Name of the Pensioner) holder of the Pension Disbursement Order
(PDO) No. _______1234________________ and that he/she is alive on date.
(Full Signature with official seal & Designation of the Authorized Officer)
Branch Date: _____10-11-2022

FORM OF CERTIFICATE OF NON-EMPLOYMENT/RE-EMPLOYMENT

(i) I declare that I have not been serving in any capacity either in a Government department /office Company,
Corporation, autonomous body or Society of Central or State Government or Union Territory or a Local Fund during
that half-year ended May/November, 2022…………….
OR
I declare that I have been employed/re-employed in the office of ________________
which is a part of/ financed by __________________ Government and was in receipt of the
following monthly rates of emoluments during the half-year ended May / November, 20……… or / during the
months of __________________ falling within the said half year.
(a) Pay__________________________________________________________________
Special Pay/Allowance__________________________________________________
(Including D.A., A.D.A. etc.)
OR
(b) Honorarium
Further that the orders of my re-employment do/do not stipulate my pension being held in abeyance during
the re-employment period.
(ii) I declare that I have not accepted any commercial employment in India.
OR
I declare that I have accepted commercial employment in India after obtaining previous sanction of the
Central Government and none of the conditions, if any, attached thereto by Government has been violated.
Note : This declaration is required to be given for a period of two years from the date of retirement.
(iii) I declare that I have not accepted employment under a Government outside India/an International
Organisation of which Government of India is not a member after obtaining the previous sanction of the
Central Government and none of the conditions attached thereto by the Government has been deviated from.
Place: __Shimla____ Signature of Pensioner: ___________________

CERTIFICATE OF RE-MARRIAGE/MARRIAGE ( for family pensioner only )

I hereby declare that I have not got re-married and I undertake to report such an event promptly to the
pension Disbursing Authority / bank. (Applicable only for widow recipient of family pension and to be
furnished only once)

OR

I hereby declare that I am not married / I have not got married during the past six months. (To be Submitted by widowers and unmarried daughters once every six months in May and November)

Place : ___shimla_____________ Signature: _________________________

I certify to the best of my knowledge and belief that the above declarations are CORRECT in all respects.
Name of the Pensioner : _______Asha________________; PDO No. ____1234______
Signature of Pensioner :
The pensioners can submit UCO bank Life certificate form by using following means by Digital
Mode available
Pensioners can submit Life Certificate online from home through Jeevan Pramaan Portal. The process of submission of Digital Life Certificate through "Jeevan Pramaan" may be seen at https://youtu.be/nNMIkTYqTF8. Pensioner may visit the site www.uidai.gov.in to get information of all such devices.
In order to promote Ease of banking reforms our bank has introduced "Doorstep Banking". Pensioners can submit Life Certificate through "Doorstep Banking" made available by our bank and other Public sector banks for customers in 100 major cities of the country. Our bank has reduced the service charges to Rs. 50/- for availing this facility. These Service can be booked by the pensioner through any of the 3 Channels i.e. Mobile App, Website or Toll Free Number. Mobile App i.e. "Doorstep Banking (DSB) "can be downloaded from Google Play Store.
• Pensioners can access through Web Browser I.e. https://doorstepbanks.com/ &httDs://dsb.imfast.co.in/doorsteD/loain.
Through Toll free Number: -18001213721, 18001037188.
Pensioners can submit Life Certificate by utilizing Doorstep Banking Services through Postmen & Gramin Dak Sevaks as provided by India Post Payments Bank (IPPB).The process of submission of Digital life Certificate through Postman may be seen at httDs://youtu.be/cERwM U7a54.
Bank has also introduced Video Based Life Certificate/Video KYC from pensioners for submission of Life Certificate. Branches the Aadhaar Centers are authorized to take VLC's on behalf of other branches and it will be uploaded centrally.
Pensioner may also submit Life Certificate physically appearing before pension disbursing agencies i.e. branch.
UCO bank life certificate submit through UCO mpassbook application.
Pensioner will register for UCO mpassbook application which require only OTP authentication.
Select Vedio life certificate option and select Pension account of UCO bank.
Enter your PPO number and select vedio verification schedule.
You have to submit your image, officially valid document and signature.
You will receive confirmation message on your mobile phone.
You can also read:
Block UCO bank ATM card immediately
UCO bank UPI ID creation
Frequently Asked question on UCO bank Life certificate form 2023
How to submit UCO bank Life certificate?
You can submit UCO bank life certificate through following ways:
1. From UCO bank mpassbook application.
2. From jeevan pramaan Application.
3. Physically by filling life certificate form and submitting it at UCO bank branch.
How to submit UCO bank Life certificate Online?
UCO bank has introduced vedio life certificate a digital mode to submit UCO bank life certificate of the pensioners from 1st November to 31st December.
pensioner can submit life certificate through UCO bank mpassbook application of UCO bank.