This is what you are going to learn
PM SVAnidhi yojana online registration in 11 steps.
PURPOSE
PM SVAnidhi yojana or prime minister street vendor Atma nirbhar nidhi yojana is a special micro credit facility for small steer vendor's. Street vendors who offer small items for sale either from stall or from vending machines are eligible for this micro credit facility.
Major purpose of PM street vendor atmanirbhar nidhi scheme is to provide working capital facility to small vendors who's vending business is affected by COVID 19 outbreak and all their saving has been consumed by them during this hard time. So in order to put their business back on track central government has started micro credit support up to ten thousand rupees to these vendor's at 7 percent subsidized interest rates.
ELIGIBILITY parameters.
PM SVAnidhi yojana is a collateral free micro credit loan scheme available to all small vendors vending on or before 24 march 2020.
Vendors in urban area, peri-urban area and rural area are eligible for PM SVAnidhi yojana.
To avail working capital loan vendor should have valid vending certificate issued by Urban local bodies.
NOTE – If you don't have any valid vending certificate you should approach Urban local body for provisional certificate. For this you need to produce one documented proof or any witness from surrounding who will verify that your are doing vending business in that area on or before 24th march 2020
TYPES of business
Fast food and food Items
Fruits and Vegetables
Home Décor & Handicrafts
Kitchen items
Electrical and Electronic goods
Cloth and Handloom items
Flower and pooja items
Plastic items
Leathers Products
Beauty and fashion Accessories
Services
Quantum of finance
Individual : Working Capital loan up to Rupees 10,000/- per vendor.
JLG : Joint liability group, the quantum will be maximum Rs.l0,000/-per vendor per group.
The loan will have tenure of 1 year and repaid in monthly installments.
On timely or early repayment, the vendors will be eligible for the next cycle of working capital loan with an enhanced limit of Maximum of 200% of the earlier loan, subject to a ceiling of Rs.20,000/-. Zero pre-payment penalty will be charged for repayment before the scheduled date.
Other important points
Security – These loan are provided without any collateral security. Which means you only need to produce your vending certificate and you are eligible for loan under PM SVAnidhi yojana ( PM street vendor atmanirbharnidhi scheme )
PM SVANidhi yojana online registration.
For applying online you have to visit this website click here to visit pmsvanidhi.mohua.gov.in
This is the very first window which will open in your screen. Now, click on Apply for loan to proceed further.
next window is this one now, insert your mobile number and tick mark on I am not a robot. Click on Request OTP.
Now you will receive six digit OTP on your mobile number Enter OTP and click on verify OTP.
Now choose your category from A, b, c, d and drop down to below screen.
Insert your survey reference number and search your name. Upload any one out of certificate of vending issued by urban local bodies or Identity card. File size for attached document should be less than 1 MB. After upload Click on NEXT
Search your survey reference number here
Now you have to verify your Aadhaar. For this your Aadhaar must be attached to a valid and working mobile number. Enter 12 digit Aadhaar number and click on verify. OTP is sent on your registered mobile number.
Enter OTP and click on verify now you have to fill application form
Fill up this application form you can see demo form for quick reference and click on submit after filling complete application form.
Now upload your photograph and certificate of vending ( both less than 1 MB in size ) and submit. Now you will reach last step of PM SVAnidhi yojana online registration.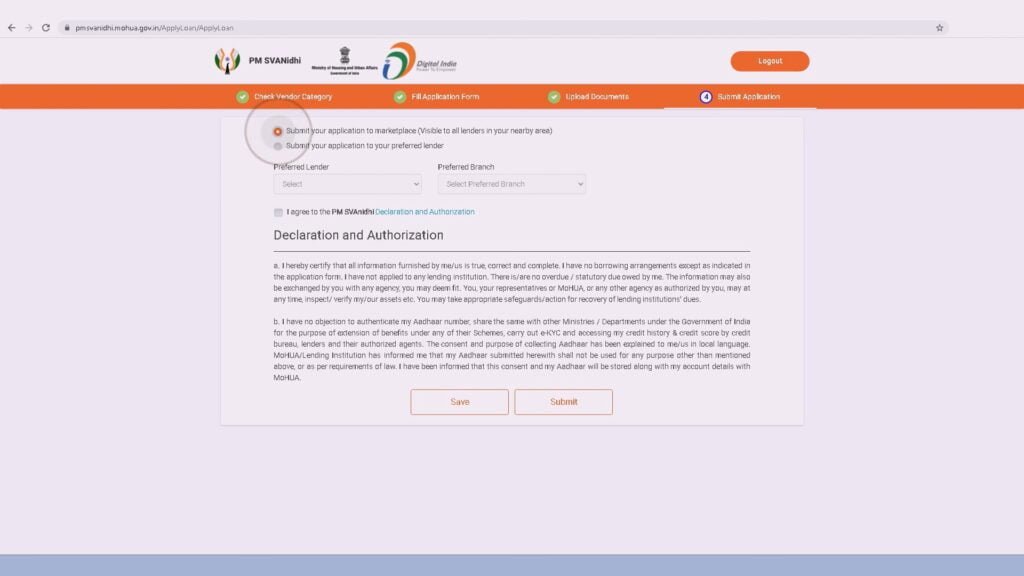 choose any one of the two methods for submitting your application
First option will submit your application to all the banks and anyone of all the banks will reach you as early as possible. ( banks which approach you first will do all the loan appraisal process)
In second option you have choice to submit your application to any bank which you desire for loan approval. You have to choose bank name and branch location from the drop down buttons.
Now click on submit and your PM SVAnidhi yojana loan application form is finally submitted.
Also read home loan for salaried, non salaried and farmers
FREQUENTLY ASKED QUESTIONS
What is PM SVAnidhi yojana?
This is a central level scheme started to provide micro credit facility up to ten thousand to small street vendors who are doing vending business on or before 24th march 2020.
This facility shall be in force up to march 2022 and initially this micro credit facility is for 10000 rupees only but, after timely repayment of first loan another loan of up to 20000 can be given.
How can I get loan for street vendor?
For street vendor or for vending business you can avail loan under PM SVAnidhi yojana. But this scheme is only for vendors who are doing vending business before 24th march 2020 and This loan is only for resuming vending business after impact of COVID 19 lockdown.
Full form of PM SVAnidhi yojana?
Full form of PM SVAnidhi yojana is Prime minister street vendor atamnirbhar nidhi yojana. This scheme was launched by ministry of housing and urban affairs.
Salient features of PM SVAnidhi yojana?
Micro credit to vendors in the form of working capital advance up to ten thousand rupees, subsidized interest rate at 7 percent, monthly cash back on digital transactions, higher loan up to twenty thousand after timely repayment of first loan.
All these are salient features of Prime minister street vendor atamnirbhar nidhi yojana
For any query submit contact form here